A Little-Known Jewel
Just 32km NE of Mackay, Qld
📸
Video credit: Andrew Gregory Photography
Appreciate The Natural Wonders Of Keswick Island
This southern-most Whitsunday Island is a wonderful, unique  place to visit to escape the hustle & bustle of city life. Relax & breathe the fresh air while you  unwind & ground yourself.



Surrounded by sparkling clear azure waters in the Coral Sea and fringed by stunning coral reefs forming the Great Barrier Reef Marine Park, luxuriate as you immerse yourself in the peaceful, serene atmosphere that is Keswick.
Take time out to de-stress and appreciate all that this tiny island community has to offer. Eye-popping views of the surrounding islands and Coral Sea. Hilly terrain covered in natural bushland and rainforest. White sandy beaches for safe swimming, snorkeling and kayaking — where you could be the only people on the beach… Warm, clean water and shady grassed areas to enjoy the laid back simple life. Plenty of fishing opportunities – in or out of the water. You'll find a plethora of marvelous photo opps with abundant native flora and fauna to spot.
If you truly want to getaway from the rat race, Keswick Island is the place to visit to ease your worries away. Come and meet the friendly locals as you walk along the beach collecting flotsam and jetsom.
If you're a shopaholic who likes to spend each morning at cafes, then Keswick isn't for you just yet… You can bring your own coffee, but there are no shops open to the public at this time. We expect improvements in the coming years and our blog will publish updates. We look forward to meeting you in the future!
📸 Photo credit: Mark Fitz Photography
Who would have thought that such an amazing phenomenon could result from a cyclone? (Apart from plentiful water). Under certain post-cyclone conditions, we welcome millions of butterflies to Keswick! Enjoy the splendour of seeing skies full of Blue Tigers, Swallowtails & more.
Say Hello to Basil Bay
Best suited for beach activities like swimming, kayaking, SUP boarding or simply spending the whole day reading a book, it's a 3 minute buggy drive from any house. (Sometimes it's like a private infinity pool.) Safe waters, white sand, shady seating, sand monitors, turtles, birds, rays… Seriously, what's not to love?
📸 Video credit: Andrew Gregory Photography
Tidal Days
It's not surprising that everything revolves around the tides on Keswick with a 6 hour turnaround up to 6m in summer.
Low tide is a great time to slip on your reef walkers and walk around the foreshore of Egremont Passage or out from Basil Bay. You'll see exposed coral, plants and marine life in the shallow rock pools.
A photographer's dream — there's always something to snap with your camera. The Arthur Bay walk starts from Basil Bay and across the rainforested headland, then back via the beach for a cooling swim. It takes about an hour to complete.
Native Fauna
Keswick is abundant with a broad cross-range of animals including more than 60 bird species. You can't help but watch them as they fly by and listen to their calls by day and night.
Keswick Island is home to disease-free Caucasian bees and the hives are an interesting spot to visit and learn about their importance.
Enjoy snorkelling to view and photograph the coral reefs & marine life surrounding Keswick. Coral Gardens and the northern end of Egremont Passage are good spots. Bring your snorkelling gear, sunscreen and insect repellent with you to Keswick.
Hiking
For the fit and adventuous there are seven walking trails on Keswick that you can explore. With a hilly terrain, morning is the best time to hike unless you have a golf buggy. Some of the trails are off-road so water and sun protection are required.
View the walking trails map here >>
Connie Bay, Langton Point Lookout past Horseshoe Bay Lookout and the hilltop are the furthest distance to walk, but worth every step. Eagle View Place Lookout is the best location for sunset photos or a game of boules or finska. Basil Bay beach or green are also good spots for a game of cricket or frisbee.
Whale Watching
Experience the spectacle July-September every year!
The cheapest way to reach Keswick is by private boat. The trip from Mackay can range from one hour in a motorised vessel to several hours via yacht. There are six moorings located in Horseshoe Bay and several more in Homestead Bay on neighbouring St Bees Island.
A new charter boat service Keswick Explorer now operates from Mackay Marina Gate C to Keswick Island on Mondays & Fridays. The fare is $80/each way which includes up to 20kg luggage. Up to 20kg of boxed or bagged freight can also be brought over per person @ $2.50/kg. Please direct communication to office@keswickisland.com.au for booking queries and confirmations.
Always check the tides before you come and especially when planning holidays. You don't really want to be caught in hot weather when the tides are out every day (each fortnight)…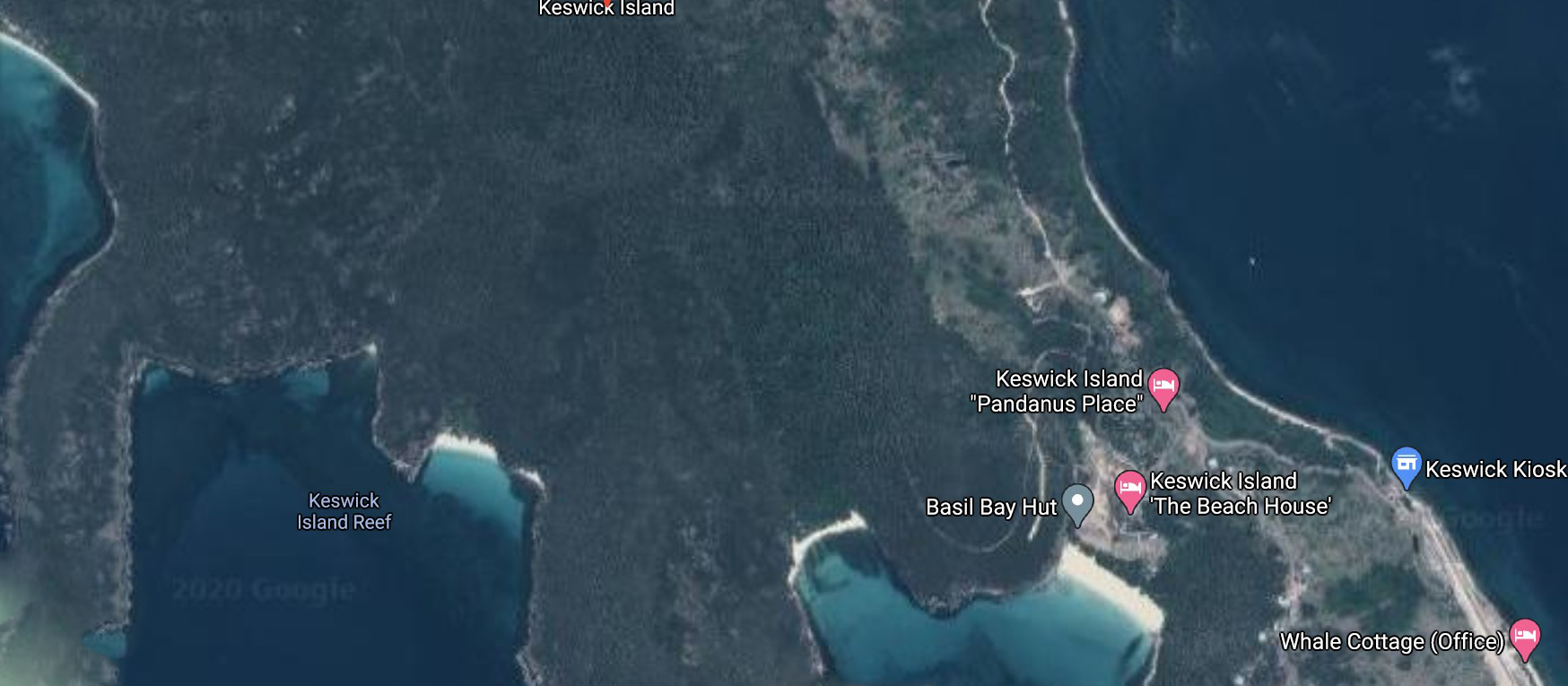 Contrary to misleading reports from Greaton Keswick Pty Ltd that turtles haven't nested on Basil Bay in the past 10 years, now we have first-hand proof that Flat Back turtles ignore the keep out signs & nest here.
Wondering whether tourism will ever get back on track again at Keswick Island? Discover the latest news about charter boat transfers, hire options on Keswick, planned tours & much more in this latest update.
Do you need to wear a stinger suit when going into the water at Keswick in case there are stingers? Are there any good snorkelling or diving spots? Any shipwrecks? Discover what you can expect from Keswick.